It would be wise to choose only after considering the merits and demerits of the things you want to buy. Otherwise, you may get trapped. But it is also impossible to justify all the features by comparing one company to another. So it will be wise for everyone to visit websites that review these products. That's why we reviewed most of the best chainsaw bars on the market. It helps you to choose the most suitable chainsaw bar for you.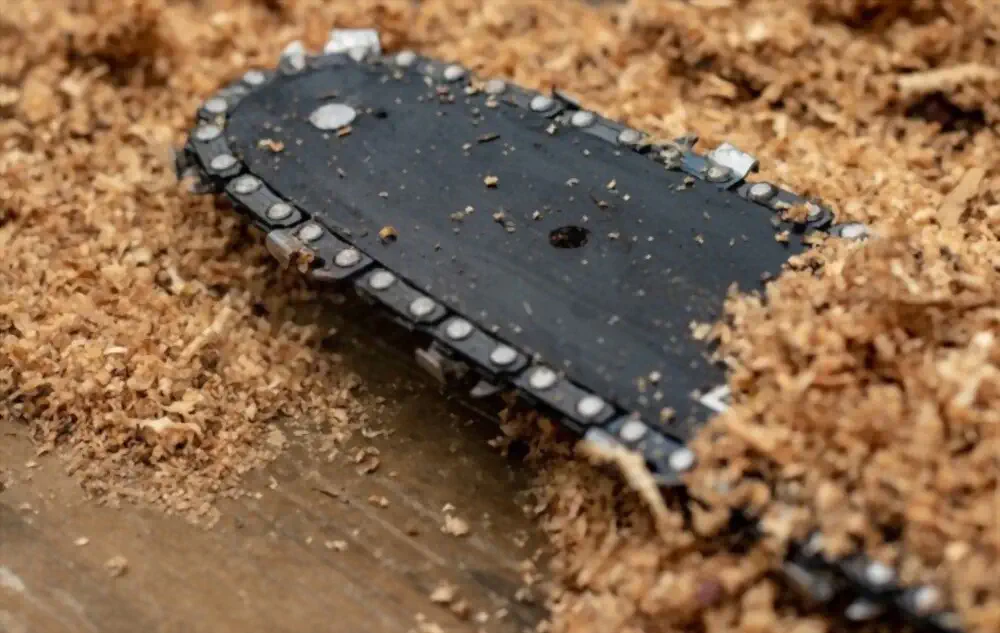 Chainsaw Bar Comparison Chart
Products
Features
Price
Oregon 105667
Length: 14 Inches
Dimensions: 6 x 5 x 1 Inches
Weight: 1.55 Pounds
Check Latest Price
Oregon 105671
Length: 20 Inches
Dimensions: 29 x 0.25 x 5 Inches
Weight: 3.38 Pounds
Check Latest Price
Husqvarna 531300438
Length: 18 Inches
Dimensions: 20 x 2.5 x 0.25 Inches
Weight: 1.1 Pounds
Check Latest Price
Oregon 105668
Length: 16 Inches
Dimensions:
Weight:
Check Latest Price
Husqvarna 531300440
Length: 20 Inches
Dimensions: 0.5 x 4.25 x 24.75 Inches
Weight: 2.5 Pounds
Check Latest Price
FORESTER Bar & Chain
Length: 16 Inches
Dimensions:
Weight:
Check Latest Price
Oregon 39272
Length: 18 Inches
Dimensions: 29 x 8 x 2 Inches
Weight:
Check Latest Price
Oregon 27850
Length: 20 Inches
Dimensions: 29 x 5 x 1 Inches
Weight:
Check Latest Price
STIHL 3003 008 6821
Length: 20 Inches
Dimensions: 27 x 4.1 x 0.4 Inches
Weight: 2.7 Pounds
Check Latest Price
Oregon 240RNDD025
Length: 24 Inches
Dimensions:
Weight:
Check Latest Price
Buyer's Guide: What to Consider Before Buying A Chainsaw Bar?
One affordable way of upgrading a chainsaw's performance is to provide the saw with a high-class, durable, and versatile chainsaw bar. But when you decide to get a new bar for the chainsaw, it isn't a walk in the park.
You may get bogged down among tons of choices. Hence, we have piled up the necessary factors to consider for the chainsaw bar buying to ease your pressure. Also, it will help you quickly choose the right chainsaw bar.
Chainsaw Type You Have
Not all bars will be best fit all types of chainsaw. Hence, considering the chainsaw type and guide bar for bar compatibility is your priority. You should check the chainsaw bar label to see if the item fits your chainsaw model.
Also, some manufacturers build specific bars as a replacement for their particular model. So, keep the chainsaw type and compatibility in mind when you go to buy the bar. Remember that the larger the bar is, the powerful the motor of the chainsaw needs to be.
Also, larger bars require enhanced protection due to their weight.
Types of Bars
You will mainly see three types of chainsaw bars. These are solid bars, laminated bars, and safety bars. To know more about the bar types, continue reading the following part.
If you work mostly with thick barks or hard timbers, getting a solid bar for the chainsaw is your best buy. The solid bars will also come in handy in the dusty and sandy conditions where the bars tend to wear out sooner than other states.
Solid bars are often coated as protection against gums and abrasion.
The laminated bars offer enhanced control during the cutting jobs. Also, it reduces the risk of kickback injuries considerably. The laminated bars offer accuracy, management, and safety, thanks to their nose radius and slightly curved shape.
The coating is laminated, and that's why the name was given to the bar.
As the title suggests, the safety bars are made to minimize the kickback effect during the chainsaw's cutting operation. The enhanced bar protects from kickback and offers workers a safe operational time.
Safety Features
When you buy a chainsaw bar, safety needs to be one of your primary concerns. The major safety features include protection from kickback and reduced vibration.
Every worker knows that the chainsaw bar's kickback may cause serious and often fatal injuries to them. So, you must get a chainsaw bar with ANSI standards. It affirms the low kickback function of the bar.
Next, you must look for a bar that has lesser vibration. Less vibration will result in higher accuracy at cutting jobs.
Bar Length
The chainsaw bar length will decide the diameter of the cutting tree or lumber. Also, it will affect the overall cutting speed of the saw.
If you want to cut small trees and lumbers, getting a bar with 12″ to 18″ length will work fine. However, you need a bar of 20″ or more for cutting hardwood or large trees.
Intended Purpose
When you want to buy a chainsaw bar, you should specify your intended purpose first. It will help you quickly assess what type of chainsaw bar you should buy. Also, it reduces the cost since you will look for the bar that meets your requirements.
For instance, if you work mostly with smaller trees, softwoods, or short lumbers, getting a smaller bar is beneficial. However, a coated or laminated bar with an anti-kickback feature is mandatory if you work mostly with hardwood and large trees.
Engine Power
The chainsaw's engine power is crucial since it is the part of your saw that will run the bar in practical life. You need a higher-powered motor for larger chainsaw bars, and for smaller bars, a low-powered engine is ideal.
So, check the motor capacity of your chainsaw before you purchase the bar for it. Make sure the bar is compatible with the engine.
Weight
The bar weight will eventually contribute to the overall chainsaw weight. If you want portability and move frequently, we recommend you get a lightweight chainsaw bar. It will help you transport the bar quickly.
Most chainsaw bars will weigh from 1 pound to 4 pounds, as you see in our review. Some bars are weighing less than 1-pound or close. It may offer maximum portability but compensates with the bar length.
Construction and Brand
Most chainsaw bar is made of premium metal and has a non-abrasive coating to prevent rust, corrosion, and quick wear. Always focus on getting a chainsaw bar with optimal construction quality. You may look for reputed brands to ensure quality and durability.
Also, the brand selection may sometimes be subjective. It will vary according to your choice and budget. So, there's nothing much to tell you about the chainsaw bar brands. You may choose the chainsaw bar from Stihl, Husqvarna, Oregon, or Sugihara since all these manufacturers are reputable and trustworthy.
Best Chainsaw Bar – Reviews
1. Oregon 105667 14-Inch Guide Bar and AdvanceCut S50 Chain Combo
If you are a homeowner or occasional user and in need of a replacement bar and chain for your Stihl chainsaws, then the Oregon 10567 inch guide bar advance cut 550 chain combo is perfect for you. It is inexpensive yet cuts perfectly. This combo features a 3/8″ low profile chain and a 14″ inch guide bar.
The advanced cut chain is durable and reliable. This combo is also easy to maintain. This combo comes with a lubritec oiling system that keeps your chain and guide bar oiled for less friction and longer life. This chain meets ANSI kickback performance. The bar is lightweight that makes it easy to maneuver, and is perfect for small electric and gas chainsaws. For most of the Stihl model chainsaws, including ms 170, this combo fits excellent.
This combo will make your lawn care jobs easy and quick.
Pros:
Easy manoeuvre
Lightweight
Perfect or small electric and gas chainsaws
Inexpensive
Lubritec oiling system
Cons:
2. Oregon 105671 20-Inch Replacement Chainsaw Bar
If you ever need to replace your, you can place your trust in Oregon. Oregon 105671 20-inch replacement chainsaw bar is the best-selling one. I would rather say it stands for chainsaws bars. This model is from the Oregon Advance cut series. It works best for light-duty jobs; it also ensures straight and smooth cuts. Even on challenging yard applications, it withstands.
All useful features have got blended in Oregon 105671 20-inch Replacement chain Bar and Chain Combo that a woodworker can require. The caliber of the Oregon 105671 20-inch bar is known to all. It is designed to meet the requirements of many Stihl chainsaws. It has a lubrication system that keeps the chain and guide bar oiled. It also helps to prolong its life. Besides, fewer frictions are due to this lubrication system. It is ideal for saw sizes up to 62cc.
Some of its features are like,
Pitch-.325″
Gauge -.063″
The chain drive link count is 81.
You can use this chainsaw to meet your little kickback performance. It is also lightweight and portable. It is an all-in-one package.
With a slim, symmetrical, and lightweight contour, this bar combo is easy to use. This also helps it last longer.
I believe that you cannot ignore it if what you want is reliability, power, durability, maneuverability in one package.
Pros:
Lubrication system
Easy to move
Durable
Cons:
Expensive
Fit for Stihl chainsaws
3. Husqvarna 531300438 18-Inch HLN250-72 Pixel Chainsaw Bar
If you ever need a replacement bar, you can depend on Husqvarna. They always satisfy customers' needs with their power tools and parts. And Husqvarna 531300438 18inch HLN 250-72 pixel chaisaw bar is no exxception. This bar makes the best and effective use of your chainsaw. This bar optimizes productivity and assures you of having excellence in your jobs.
This bar has a gentle curve and a small nose radius. And it is to reduce the risk of kickback. On top of that, this feature is also to have perfect cutting control.
Its laminate coating prevents scratches and corrosion. It also has a hole to make it easy for you to grease the sprocket.
You can get the job done right with this replacement chainsaw bar for years if it is maintained well.
You may find it bogs down often on some hardwood. But don't doubt its ability. It runs pretty well. Buy and keep it well-oiled and be a companion for years.
Pros:
Maximum productivity and excellency
The gentle curve and nose radius to lessen kickback
Good control
Durable
No chance of scratches and corrosion
Cons:
Bog down on some big hardwoods
4. Oregon 105668 AdvanceCut S55 16 in. Chain and Guide Bar Combo
Oregon 105668 advance cut S5516 inch chain, and guide bar combo is the combination of the manufacturer's best-selling saw chain and most maneuverable guide bar. This combo will be the best replacement for homeowners and occasional users. It features a small-radius guide bar nose to reduce kickback, and improve maneuverability.
Due to its lightweight, slim, and systematic contour, this guide bar is easy to use and maintain. It has a lubritec oiling system that helps to keep your chain and guide bar oiled for less friction and increased life. This combo fits most sthil model chainsaws including ms170, ms180c, 021, and ms 211. It is less expensive than the Stihl chain and bar. If you need a replacement bar and chain, you may give this combo a try. It won't disappoint you.
Pros:
Inexpensive
Lightweight
The small-radius guide bar nose
Easy maintenance
Less friction
Cons:
5. Husqvarna 531300440 20-Inch FT280-72 Chainsaw Bar
Wanna make your chainsaw bar more powerful?
Then buy Husqvarna 531300440 20-inch FT280-72 chainsaw bar. This bar from Husqvarna is 20-inch long and fits every chainsaw from Husqvarna. This chainsaw bar is fit enough to do any task, and is also perfect for cutting thick lumber and wood. Any Husqvarna tool offers you the best performance and efficiency, and so does it. It assures you of having an appealing yard.
Made up of solid materials, this bar offers you accurate cutting. Though its performance is high, its vibration is low. It is also a durable and lightweight chainsaw bar. It also resists corrosion. It also doesn't cost so much.
So grab your one soon, you won't regret it. It is of OEM quality.
Some features are as follows
20-inch long
3/8-inch pitch
.050-Inch Gauge
Pros:
Portable
Easily used
Offers durability
Cons:
Sometimes it vibrates loudly
Frequent repair is needed
6. FORESTER 16-Inch Bar & Chain
If you can get hold of the forester 16″ Bar and Chain combo, you will fall in love with your chainsaw again. This combo fits various Stihl chainsaws. It is an upgrade of a 43 gauge chain on ms170 and ms180 to gauge chain, and this is what you need. It will transform your chainsaw from a gardener's tool to serious saw workers'. Limbing trees or cutting anything up 6′ in diameter, you can depend on it.
This combo starts immediately and every time. It is lightweight. So, you can use it even all day without getting tired.
Considering durability and cutting capability, it is better than the original one. It also makes low vibration. Want to make a big difference to your chainsaw? Then I suggest you buy it.
Pros:
Durable
excellent cutting ability
lightweight
immediate start
low vibration
Cons:
7. Oregon 39272 18-Inch Guide Bar and AdvanceCut S62 Chainsaw Chain Combo
Homeowners can count on Oregon 39272 18 inch guide bar and advance cut S62 chain combo to cut trees and limbs. This combo includes their best-selling saw chain and most-maneuverable guide Bar. This combo simplifies your lawn care jobs.
The Advance cut saw chain features Oregon's trademark lubricate oiling system. And it is to ensure less friction and longer life. Also, the chain produces low vibration and lessens the possibility of kickback.
The single river bar is lightweight. So, you can maneuver it easily and perfect one for your small chainsaw.
The bar is slim and symmetrical, meaning the bar is reversible.
The bar gives you a long-life service. Its patented cradle nose sprocket gives your chain superior support.
You will be an owner if you buy this combo pack instead of buying them singly. This combo comes at a reasonable price.
Pros:
Affordable package
Less friction
Low vibration
Less possibility of kickback
reversible bar
Cons:
Not so good for professionals
8. Oregon 27850 20-Inch AdvanceCut Guide Bar and D70 Chainsaw Chain Combo
This combo from Oregon is an ideal fit for homeowners or landscapers who does regular maintenance on properties. This combo is lightweight, easy to maneuver. For accomplishing limbing on light-firewood cutting, you can go for it. You will have perfect control and get quality performance even in rough conditions. It is reliable and safer. Thanks to its low-kickback design.
This pack also features low vibration technology, and it is to lessen user fatigue and increase productivity. It has a multi-Rivet sprocket to ensure a longer lifetime.
This combo will fit saw sizes up to 60 Cc. Have it and renew your saw's performance.
You will get what you want at a very reasonable price. But, it only offers 3o day refund benefit.
Pros:
Easy to maneuver
good control
Withstand tough condition
Less user fatigue
Durable
Cons:
Only 30 -day refund benefit
9. STIHL 3003 008 6821 20-Inch Rollomatic E Laminated Chainsaw Bar
An original STIHL quality.
Stihl has a long-established reputation for quality power tools and their parts. Stihl's guide bars comply with the same quality and standard as their chainsaws. So, if you have a Stihl chainsaw, and need a replacement bar, you can get your needed one from stihl. Together they guarantee the power and performance you expect.
Stihl guide bars have induction heat-treated edges, which ensures high wear resistance. Because of this, their bars have a little chance to bend permanently if it gets flexed during use. They are also symmetrical, which ensures the service life of the bar.
And stihl 3003 008 6821 Rollmatic laminated chainsaw bar is no exception.
I think STIHL 3003 008 6821 Rollmatic E Laminated Chain Saw Bar 20 -inch should head your list when you ponder over buying a chain saw bar. It is suitable for both professional and amateur users. Because of its construction from high-grade steel, woodworkers want to own it for their trade. High-grade steel is used to make it durable. It includes a three-part spot-welded laminated guide bar. A star-shaped Sprocket helps you control and move the bar quickly. It also helps avoid the gradual fall of the chain that saves your time.
Pros:
Both professional or occasional can use
Made of high-grade steel
Longer life-span
Lubrication reduces its weight
Cons:
Not perfect for the small-sized chainsaw
10. Oregon 240RNDD025 24-Inch Power Match Bar
Oregon's bars and chains are second to none. If you ever need replacement, you can depend on Oregon's.
Now, you will get to know about the '240RNDD025' Oregon power cut 24″ guide bar.
This 240RNDD025 Oregon power match bar is industry standard. So, if you are a professional woodworker and have Stihl chainsaws, which configures a 318′ pitch 0.50″ gauge and 84 drive link saw chain, don't hesitate to go for it.
It is made up of super-tough Chrome-moly steel to ensure its superior strength. That is, it can tackle all your needs. Moreover, its rails give strong resistance against wear and chipping.
Plus, you will find its nose fastened with a single rivet and secured by overlapping ears. This long nose tackles most of the abuse and minimizes wear to the body of the bar.
Pros:
the best fit for professional
super strength
strong resistance against wear and chipping
Cons:
Final Verdict
Choosing one amidst so many options is indeed a difficult task. And that is why you have come here. After reading the review, you have already decided which one you want to buy. All the above must satisfy you with their features. As a real user, I suggest you buy Oregon 105671 20-Inch replacement chainsaw bar if money is no problem.
This bar is lightweight, easy to use, durable, features a perfect lubrication system, guarantees a smooth and straight cut.
You may have wondered that what's not it offers
Don't hesitate- you can count on it.