Like any other piece of equipment, there are many Miter saws out there to choose from. So many, in fact, that it can be a real drag to pick the right one. In order to make the journey to finding your perfect saw easier, we have compiled a list of the top Miter saws on the market. This guide will soon have you on your way to finding the best Miter saw to fit your needs!
In order to help you narrow down the many options available, we have created a list of the top 5 miter saw reviews to show you the best of the best. After all, there are so many options it can be difficult to know which one is best for you. To help you truly decide, though, we will also go over what you need to know when shopping for a miter saw in our buying guide.
Best Miter Saw Comparison Chart
Best Miter Saw Review
1. DEWALT DWS780 Miter Saw – Top Pick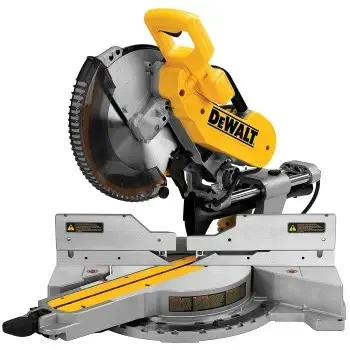 Our top pick for potential miter saw buyers is the DeWalt DWS780. This saw has everything that a customer would look for when buying a miter saw including a 15 amp motor that has the power to complete virtually any job that could be asked of it.
At 56 pounds, the DeWalt DWS780 can be loaded into a tool truck and taken wherever it is needed. Additionally, the DeWalt DWS780 comes with a blade wrench, dust bag, vertical material clamp, and a 12″ Carbide Blade. It also has a large and accurate bevel.
Despite its all-round excellent features, though, the DeWalt DWS780 does have one downside in that the saw slides are of poor quality. Users report that the slides are noisy, rough, and sticky when in use. This is a flaw but not a deal-breaker for me.
Other than that one flaw, this saw is the best on the market by a distance and should be heavily considered for purchase. However, as this is a higher-end saw, though, it is not as budget-friendly as the others on this list. If that is your top priority, number 3 on our list, the Dewalt DW715 could be a better option.
Pros:
A large accurate bevel
Excellent mess-free dust collection
Powerful 15 amp and 3,800 rpm motor
Tilts up to 60 degrees to the right and 50 degrees on the left
Easy to transport from job site to job site
Cons:
2. Makita LS1016L Miter Saw
Makita LS1016L 10" Dual Slide Compound Miter Saw with Laser
10" slide miter saw with the crown molding cutting capacity (6-5/8" nested) of a 12" miter saw
Exclusive 6 linear ball bearings engineered to deliver "dead-on" accurate cuts
Innovative direct drive gearbox and guard system is engineered for increased vertical cutting capacity (4-3/4")
Compact design with a patented 4-Steel Rail Sliding System further increases rigidity to produce superior cuts
Less weight (53.3 lbs.) and the most compact design in its class for easy jobsite portability
Following closely behind the Dewalt DWS780 is the Makita LS1016L. This Miter Saw is a dual slide compound miter saw. This 10-inch slide saw has the largest crown molding cutting capacity at 6 and ⅝ inches. Powered by a 15 amp motor, this is an incredibly powerful professional-grade saw.
For accuracy, this miter saw also offers a laser guide to help keep your cuts precise. As far as tilts go, this saw will miter 52-degrees leftwards and 60-degrees to the right. Positive stops are set in both directions at 0-degrees, 15-degrees, 22.5-degrees, 31.6-degrees, and 45-degrees.
However, not everything about this saw is perfect. Unfortunately, the fences are not the strongest and tend to bend. This can result in kickbacks or even bent blades. In addition, the last couple of inches of the sliding arm is stiff. You want a smooth even stroke, so this is a definite drawback.
It can also be a pretty complex saw to understand with quite a steep learning curve. Again, these drawbacks are real, but they are not too significant.
One of the best things about this saw, though, is how portable it is even at this level of power and versatility. It only weighs in at 53.3 pounds and has a compact design. This allows you to take it back and forth to job sites as needed without sacrificing any features.
Pros:
Laser guides for precision
Miters both left and right
Positive stops to help with accuracy
Powerful but also lightweight and portable
Cons:
Chances of kickbacks and bent blades
Saw stiffening at the edge of range of motion
Can be complex
3. DEWALT DW715 Miter Saw – Best Value
DEWALT DW715 15-Amp 12-Inch Single-Bevel Compound Miter Saw (Discontinued)
15 amp motor, 4,000 rpm delivers extended power and durability for the 12-inch miter saw blade
Adjustable stainless steel miter detent plate with 11 positive stops of the mitre saw improves productivity and ensures cutting
Precise miter system and machined-base fence support optimize cutting accuracy for DEWALT miter saw
Tall sliding fence supports crown molding up to 5-1/4-inch nested and base molding up to 6-1/2-inch vertically against the fence while easily sliding out of the way for bevel cuts
Bevels 0 degree-48degree to the left and 0 degree-3degree to the right for increased capacity
Power tools are expensive, so for those on a limited budget we recommend the DeWalt DW715. This tool is the most economical on this list, but that does not mean you are losing a proportionate amount of value. You get a lot for your money with this saw.
The DeWalt DW715 is a single-bevel compound miter saw. It has a 15 amp motor with an RPM of 4,000. This is not only a powerful motor, even for professional jobs, but it is also incredibly durable, so you do not have to worry about it breaking down anytime soon.
However, one useful feature that we have come to look for in the miter saws we review is a laser guide. Not only does the DW715 saw not come with a laser guide, but it also isn't compatible with one either so you cannot add one later. This is a budget saw, and while this is a nice to have feature, it is not an absolute essential.
Much like number 2 on our list, the DeWalt DW715 is incredibly lightweight and portable. At only 42 pounds, DeWalt manufactured the DW715 model with a built-in handle to make it easy to carry with you when you need it. It has everything you look for in a budget miter saw.
Pros:
Lightweight (42 lbs.)
15 amp motor, 4,000 rpm
Includes Carbide blade, Dust bag, and Blade wrench
Bevels up to 48-degrees and 3 degrees on the left and right respectively
Cons:
Not compatible with any laser
Laser not included
4. Hitachi C10FCE2 Mitre Saw – Another Bargain
Hitachi C10FCE2 15-Amp 10-inch Single Bevel Compound Miter Saw (Discontinued by Manufacturer)
Hitachi Power Tools has renamed to Metabo HPT. Same great tools, with only a new name.
15 Amp motor, intense power for the toughest cutting jobs
0 to 52 degree miter angle range, to the right and left for increased flexibility
0 to 45 degree bevel range, to the left with adjustable bevel stops for precision cuts
Horizontal handle with soft, vibration reducing Elastomer grip adds comfort and control
Our fourth pick on our list is another deal that offers great value. For our second option, we have chosen the Hitachi C10FCE2.
Much like our other options, this miter saw is a 10-inch, 15 amp motor. If you are looking for a portable option, this miter saw is a fantastic choice. At only 26.3 pounds, it is extremely powerful for an option this light. It also has positive stops at 0, 15, 22.5, 31.6, and 50 degrees to add versatility. It will tilt up to 52 degrees left or right and has a 0 to 45-degree left bevel.
Unfortunately, though, it is missing one major point on precision. It has no light or laser to guide you as you cut. Hopefully, though, with all the other precision features on this miter saw you would not miss it too much.
This, once again, is a robust and reliable saw that works in pretty much any setting. One nice touch is that the handle of this miter saw has a comfortable grip that is made to reduce the vibrations, which also helps with user fatigue. Finally, the warranty is top-notch for a budget saw. They stand behind their product.
Pros:
Affordable
Comfortable handle that reduces vibration
Powerful
Fantastic 5-year warranty
Cons:
No laser for precision
Doesn't provide good dust collection
5. Craftsman 21237 Miter Saw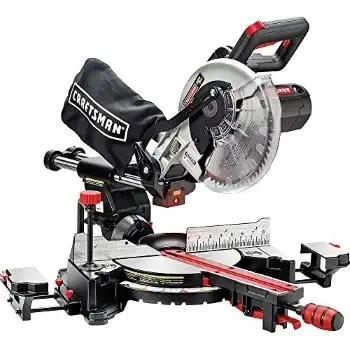 Last but not least on our countdown of the top 5 Miter saws is the Craftsman 21237. Weighing in at only 39.38 pounds, the Craftsman 21237 is our lightest reviewed saw. This is obviously a big plus regarding mobility. If this is a priority for you, take a hard look at this saw.
Once again, we are looking at a powerful motor of 15 amps. It has a reputation for durability and comes with most of the expected features including a dust bag to keep your workshop clean by keeping the sawdust your project is creating is contained.
There are some downsides. There has been a reoccurring problem for some customers with the depth of cuts. This does not apply to every user, but it has come up. Also, while the set up is now less complex, this is let down a little by the clamp which is hard to use.
The upsides are numerous though. It includes several features that aim to boost precision. One of the most useful of these is the Laser Trac, which is a Craftsman laser guide feature to ensure accuracy. The last major pro is that Craftsman has addressed a long-running concern that their models were too complex and lacked stability. This version is a cinch to set up and is reassuringly stable.
Pros:
Lightweight and portable
Laser Trac included for accuracy
Durable
Easier to set up, more stable than previous models
Cons:
Depth of cut is not always enough
Supplied work clamp is cumbersome to use
Factors To Consider When Buying a Miter Saw

As fantastic as reviews are for finding the right miter saw for you, there are some things you need to know before you make a decision. In this section, we will go over different types of miter saws and their uses as well as any other information that would help you find the perfect saw for your needs.
Knowing what size and type of miter saw you need is extremely helpful. However, there are other considerations you should make before choosing a miter saw. Let's look at some other features you should look at as well as some terms you should understand.
Types of Miter Saws
There are three primary kinds of miter saw: Compound miter saws, Dual-compound miter saws, Sliding compound miter saws. We will go over how these saws are put together below as well as how they are specifically used. However, all of these saws are based on the original standard miter saw. Let's look at that first.
Standard Miter Saw
This is the most basic design of all miter saws. This saw is capable of basic crosscuts and miters. However, the ability to tilt the saw to make an angled or bevel cut is not there. Unfortunately, the width and/or depth of your cuts are limited as well.
This saw is good when you need a basic tool on a job site – just make sure that the one you get is of high quality. They are usually inexpensive and lightweight so they can be moved and set up quickly.
Ok, let's move on to the more complex miter saws.
Compound Miter Saw
A compound miter saw combines two abilities. This is where the name 'compound comes from. Specifically, the blade on this type of saw can pivot left and right to accomplish angled cuts as you need them and it can tilt in one direction (usually left) for a beveled cut.
These are fantastic for anyone who needs to make both these types of cuts at once such as when installing crown molding. One thing is that since this design is only able to tilt one way, you will end up having to make some of your cuts upside down.
Dual-Compound Miter Saw
A dual-compound miter saw, as expected, is very similar to a compound miter saw. They are both able to pivot both left and right when it comes to their blades. This allows for a variety of cuts to be made, giving you as a user a versatility that other models will not give you.
However, there is one difference. A compound miter saw only lets you tilt one way for beveled cuts, but the same isn't true for a dual-compound miter saw. This saw tilts both ways for a beveled cut. Apparently, the original inventor had spent a lot of time doing upside down cuts!
Sliding Compound Miter Saw
If you are looking for a saw with everything, a sliding compound miter saw might be just what you are looking for. Much like both a compound miter saw and a dual-compound miter saw, a sliding compound miter saw tilts both left and right for standard cuts. Furthermore, it tilts left and right for beveled cuts, just like the dual-compound miter saw.
What really sets the sliding compound miter saw apart – as well as giving it its name – is the sliding arm. This sliding arm, much like a radial arm saw, allows you to move the blade forwards and backward while you work. This allows for increased cut lengths that a compound miter saw, or a dual-compound miter saw wouldn't give you.
Size
There are a couple of different sized miter saws which is convenient but can also make it confusing for first-time buyers if they are not sure what they need. Well, in the end – as you probably guessed – it depends on how you are using your miter saw.
If you are a professional and need a miter saw for your work site or shop, you are probably looking for a 12-inch miter saw. However, the average DIY fan does not need anything this large. For something to use in your garage, you should probably just look for a 10-inch model. Though, if you are looking for a smaller model that would be more portable, they do make models as little as 7 ¼ inches.
Miter Box
A miter box is basically a way to make a hand saw a miter saw. You can use the box to cut perfectly angled cuts. These are perfect for you if you are looking for a miter saw on a budget. However, you should not buy this if you have a large or complicated project since a miter saw box only cuts at a 45-degree and a 90-degree angle.
Amps
Power is measured in amps, and you should make sure you have enough for your needs. A 15-amp motor is the most popular among users and manufacturers but, in truth, it is far more power than the average woodworker needs. A 10-amp motor is fine to use because even though they are more often utilized in a smaller, 7 ½-inch miter saw; they are perfectly fine to use with a larger model.
Electric Brakes
These are an essential safety feature so make sure that your miter saw has them. Hit this trigger, and the flow of electricity will be reversed which stops the motor as quickly as within 2 seconds.
Blade Guards
An articulated blade guide is the best choice. This type of blade guard will keep out of the way when the saw is in use so you can see what you are cutting but will cover the blade once the saw is lifted.
Positive Stops
These are points on the miter saw set by the manufacturer to allow you to make precise cuts without the time it takes to readjust. The more positive stops your miter saw has, the more accurate it will be.
Depth Stops
These stops are much like positive stops but at the saw's maximum height. This feature allows you to set the height of the blade to control how deeply you are cutting into the wood.
Laser Guides/ Guide Lights
Both these features are exactly what they sound like; a light or laser to aid in precision while you work.
Fences
Fences are usually either slide or flip fences, and their job is to give support to the taller stock. If you are working with a larger piece of wood though, these can just be slid out of the way or flipped down.
Dust Chutes/ Blowers/ Bags
These features are important to cleanliness in your work area. Dust chutes and blowers are used simply to get the sawdust off of your work table. Dustbags, though, catch the sawdust that is blown off the table to keep your shop clean.
Shaft Locks
These are mainly necessary for changing the blade, and they will lock everything into place. This allows you to change the blade without worrying about holding the saw up.
Table Extensions
This feature is exactly what it sounds like – added space. If you plan to work on larger pieces, then this might be just the thing to make your life a little easier.
Conclusion
In this article, we have examined the Miter saw from all angles and collected all of the information that a potential buyer could need. Hopefully after reading the buying guide and our top 5 miter saw reviews, you have a better idea of how to choose the right miter saw for you.
If you are trying to find the ideal miter saw in general, the DeWalt DWS780 is the miter saw that we recommend. However, if you are looking for the best bang for your buck, the DeWalt DW715 is the saw for you. Whether you are the owner of a woodworking shop or just a homeowner in need of a DIY, we hope this article has answered any of the questions you may have and wish you luck in all your future projects! Also if you're looking for a stand for your miter saw, we have written a buying guide for miter saw stands.