Band saws are among the most used power tools in the woodworking and metal industry, thanks to their versatility and easy-to-use guidelines. In fact, professionals and DIY workers use the band saw alike for various cutting performances.
A band saw excels in shaping any piece of wood or plywood, or metal into your desired requirements. Also, you can perform some pretty cool and complex curve shapes with the saw. But for this, you have to pick the right types of band saws for the cutting, trimming, or shaping purpose.
Also, band saws are used widely for straight and intricate cuts and in different industries. You may see them even in butcher shops to trim and cut the meats in perfect neat and clean shape.
This discussion includes various band saw types, their widespread uses, along with the pros and cons. Thus, your decision to pick the right band saw should be easy and convenient.
Different Types of Band Saws
When it comes to the band saw classification, we divide them into two broad categories. The categories include-
Based on construction: The construction design and working procedure of the power saw are taken into consideration.
Based on shape and size: The specific shape of the power tool comprises its shape to decide the band saw type.
Based on application: The type of work a specific band saw performs.
Now, let's discuss the different types of band saws elaborately.
Based on Construction
Experts consider the true construction and design of the band saw in this regard. The construction refers to the tool style and how it operates.
Benchtop Band Saw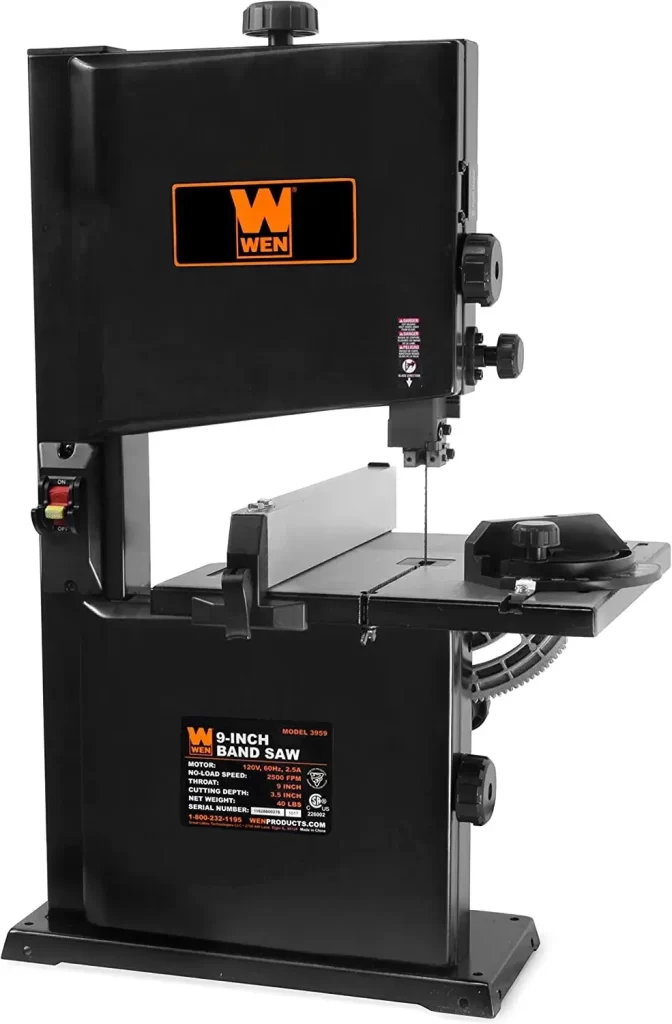 As the name refers, the benchtop band saw typically sets on the bench or table. It is the professional's favorite, thanks to its sheer power and capacity to perform versatile cutting and trimming jobs. You can use it in both the metal and wood industry. It stands between a standard table saw and jigsaw.
The tooth of the benchtop band saw will determine its application in different industries. Also, it works with direct electricity. The drawback of using the benchtop band saw is its immobility. It is often mounted in a fixed position. But the bench often has wheels that allow some sorts of mobility, if need be.
However, it isn't a big problem as mostly the benchtop saw is used in workshops and large construction sites where it doesn't need to move.
Uses:
A benchtop band saw is used widely to cut, trim and resaw both metal and wood. It helps in getting the required smoothness on the working material. You will mostly see it cutting along the width of the wood for the purpose.
If you have timbers or plywood with uneven edges, the benchtop band saw will quickly make its edges smooth and even.
You may use it to cut the veneer into thinner shapes for different furnishing jobs. It elevates the overall look of the furniture.
Pros:
Extremely versatile use in different industries
A powerful tool for professional use
Sturdy and heavy-duty construction
Cons:
Immobility is an issue
Expensive investment
Floor Standing Band Saw
The floor-standing band saw, with its power and large size, is the professional's apple of the eye. It is among the most powerful bans saw types and takes a good chunk of space in any location. But it compensates for its size with remarkable cutting size and capacities.
The large models are mainly made for and used by contractors, professionals, and construction site workers for heavy-duty and commercial cutting necessities. Its smaller versions are found at home and DIY workshops as well, but rarely.
The best advantage of using the free-standing band saw includes its large workspace, stable positioning, and considerable table size. Thus, you will find intricate cuts and ripping large pieces of wood or metal easy with it.
Uses:
Continuous and large rip cuts in both woodworking and metal industry
It performs brilliantly in intricate cuttings application
Pros:
Large and stable workspace for better control
Enhanced power and control during the job
Small versions for DIY workers
Cons:
Most expensive of all types of band saws
Fixed on a permanent position
Cabinet Band Saw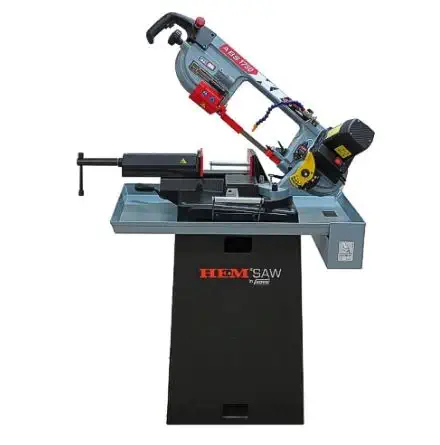 A cabinet band saw is the smallest of the three most powerful band saws in our list. It is used both by homeowners and professionals because of its mid-sized design and affordability. It is much like a cabinet on which the band saw is mounted.
It comes in medium size and power. Thus, it easily fits the necessity of all woodworkers. But, its application for metal cutting purposes is rare. The best benefit of using the cabinet band saw includes its mobility, less expensive pricing, and versatility.
You can use it to perform rip cuts, straight cuts, and many complex, intricate cuts.
Uses:
Cabinet band saw delivers remarkable performance in continuous rip cuts
You can quickly adjust its blade for straight and intricate cuts with ease
Pros:
Suits experts and DIYers alike
Not so expensive pricing
Considerably mobile version
Cons:
Not a good option for large projects
Based on Application
A band saw is designed to perform a specific cutting or trimming job in the best possible way. It defines the band saw manufacturing purpose. The different types of band saws according to the building purpose include the following list.
Metal Band Saw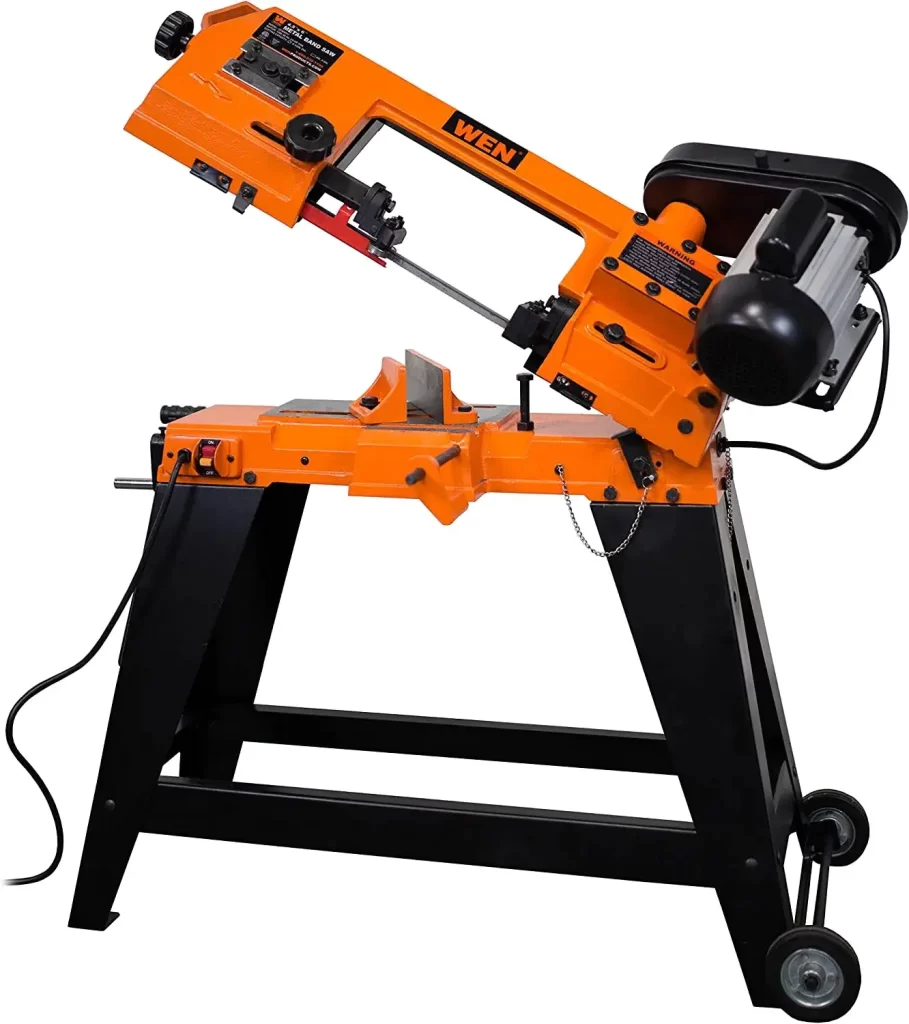 The metal band saw is much like the woodworking band saw except for the different designs and materials used in its toothed blade. The blade has series of teeth on each inch (TPI), which increases its cutting efficiency. Also, the blade operates at a lower speed for smooth cuts and is often made of nonabrasive materials for the best performance.
Metal band saws are of two kinds-
Horizontal: it is used for straight cuts. The user will normally bring down the blade straight on the metal for cutting it into a more manageable size.
Vertical: The vertical version of the meal band saw is used for intricate and curve cuts mainly. It is also used for polishing and filing jobs for the perfect finish.
Uses:
Cutting and trimming hard metals
Polishing and filing jobs
Large straight cuts on metals
Pros:
Strong blade with cutting efficiency
Great for the final polishing
Smooth cutting capacity
Cons:
Not meant for DIY jobs
Expensive power tool
Read More:
Meat Band Saw
If you have ever watched a butcher cutting the meat into different shapes quickly with a shiny and thin metal tool, it is the meat band saw. Yes, meat band saws are the newest edition in butcher shops for their cutting efficiency and easy usage.
The saw is constructed from stainless steel, with the blade has more sharp teeth. Sharper teeth result in the smoothest cutting results. Butchers use it for cutting thick and sturdy bones and fleshes. Also, meat lovers and chefs use it for cutting lamb and steak with perfection.
Uses:
In butcher shops for cutting bones and fleshes
Preparing the steak from a large chunk of meat
Quickly preparing the lamb shanks
Pros:
Smooth cuts
Fast operation
Easy to use and maintain
Cons:
Limited use in the meat industry only
Wood Band Saw
The wood band saw is perhaps the most common band saw you will ever see. It is an almost integral part of any woodworking workshop. It is used to cut large logs and timbers into more manageable sizes to work effortlessly.
Its common types include-
Double cut: Its blade consists of teeth on either side for cutting. You will see its uses in industrial-scale tabletop band saws.
Resaw: its tiny kerfs make the band saw a more profitable option to cut timbers into smaller sizes with the least wastage.
Head saw: its blade has large silver-made teeth. The teeth are arranged at a distance of 2ft to 3ft for the best cutting impact.
Uses:
Cutting large timbers into smaller size
Work on the hardwood like Oak or Cherry
Useful in plastic and metal cutting too
Pros:
Extremely versatile use
Performs different cuts
Least wastage of timber
Cons:
It may be a touch difficult for beginners to use
Read More:
Based on Shape and Size
Do you want to know how many types of band saws are there, depending on their size? Yes, there're four different types of band saws depending on their size and shape too.
Horizontal Band Saw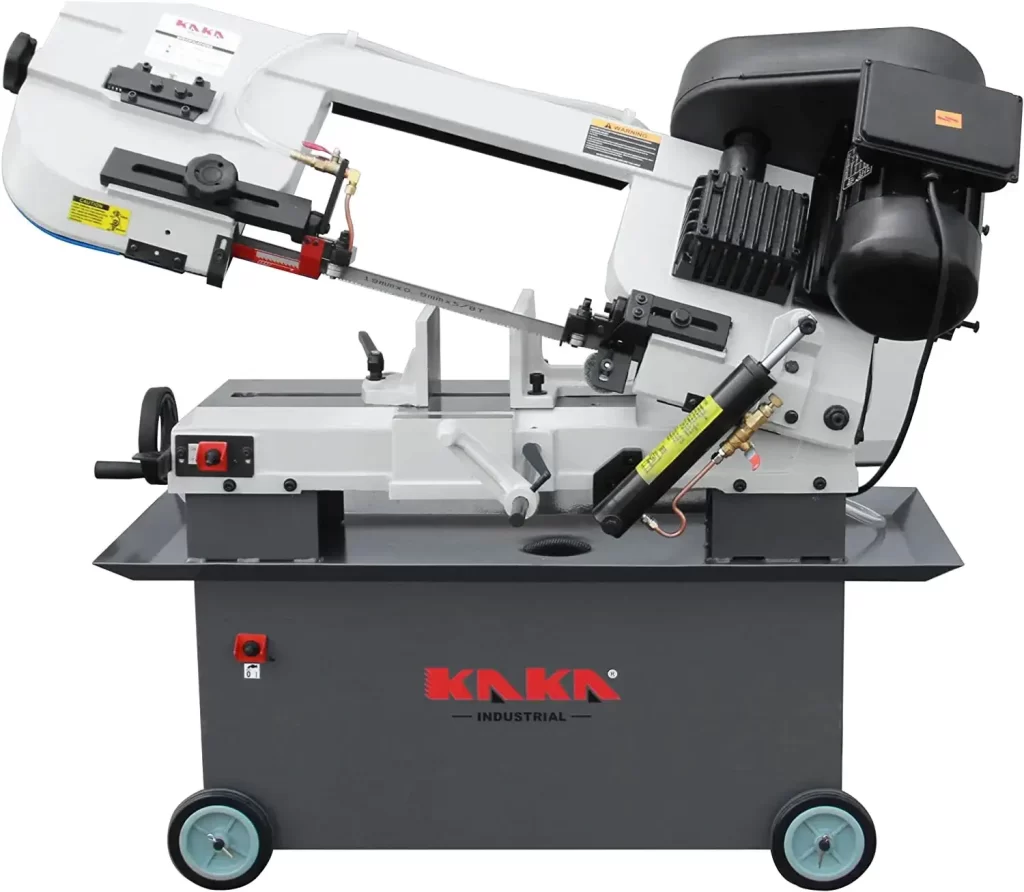 It is a variant of the large and industry-scale band saw. It typically has many parts combine in one uniform machine and is the most expensive of band saws. It holds the cutting material with a set of clamps and cuts down horizontally.
Uses:
Professional and industrial purpose
Quick and large straight cuts
Pros:
Speedy cutting capacity
Efficient and practical application
Cons:
Vertical Band Saw
The vertical band saw is quite different from the other band saw types. It moves the cutting material against the blade's face. Its working process is more like a sewing machine. It comes with a fixed but powerful blade capable of different cutting jobs. It is often tagged as the king of versatility.
Uses:
Large intricate cuts
Curves and shapes
Pros:
Most versatile power saws
Suits industrial and DIY uses
Cons:
Combination Band Saw
It is a complex category where a band saw is made with different combos. For instance, the benchtop band saw is a combination of the large table saw and jigsaws. Similarly, you will see the combination of cabinet and free-standing band saws too.
Uses:
Not fixed applications
In different cutting sectors
Pros:
Versatile use in different sectors
Cons:
Tough maintenance
Not for beginners
Portable Band Saw
It is also referred to compact or handheld band saw as one can literally hold it at hand for use due to the compact size. It is lightweight. Also, a portable band saw has the easiest user interface. Hence, DIY and homeowners find using the saw easy and convenient.
Uses:
Small cutting jobs
Intricate cuts
Pros:
Very affordable
Highly mobile saw
Easy to use for all
Cons:
Read More:
Conclusion
The band saw is perhaps the most versatile of all power tools. It has been made possible due to the elongated types of band saws manufactured for different purposes. Whether you are a woodworker, metal worker, or butcher, you will quickly find the right band saw for your purposes.
What's more, the portable or cabinet band saws are ready for use in small projects, at homes, and for DIY cutting jobs. It leaves the users with wide choices for selection among the band saw types within their budget- a remarkable feat.